Dartoid's World: The Latest Column
Column #HR249 "Miracle" Mikuru Suzuki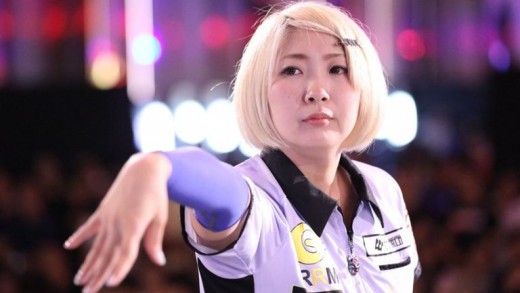 Tuesday, January 15, 2019
Column HR249
"Miracle" Mikuru Suzuki
One of the Old Dart Coach's favorite's movies is Ronin. In that movie Sam, an undercover CIA agent, states, "When there is no doubt there is a doubt." Not this time Bucko.
No doubt about it. Machine darts and the PDC have altered the course and landscape of the darting universe. The late Telly Savalas (as Kojak) would say, "That's the name of that tune." Detective Steve McGarrett's line in Hawaii 5-0 was, "Book 'em Danno." Never argue with Kojak, McGarrett or the even the ODC.
The old guard (BDO/WDF/ADO) continues to hold on by their fingertips as the PDC and machine darts – through innovation – have taken over like Limburger at the dinner table. In the Motha country the BDO has their version of World Professional Championship. At one time the Embassy World Championships was the "bee's knees."
This year, the prize fund was £329,000 or $419,855.90 USD – much less than the £500,000 Michael van Gerwen collected for this third PDC World title (which had a prize fund of £2.5 million). The only Yank at Lakeside was Jim Widmayer who went down in the preliminary round to Nigel Heydon. Widmayer started well taking the first two sets (3-2, 3-0) when up jumped the break. The "pause for the cause" was not kind to Widmayer. He lost 9 legs on the trot and packed his bags for home a 3-2 set loser.
The BDO event is the world championship for the ladies – not the entire world but the world that consists of England, Poland, Russia, Netherlands, Japan and Russia. That was also Hitler's world view.
One lady stole the entire shebang…
"Miracle" Mikuru Suzuki scooted through the field like a three-year-old at the super market. She did it with a display of lighthearted fun and joy along with great darting skill that obliterated the field.
First, she took out #2 seed Lisa Ashton (2-0) who had won a set at the PDC World Championship. Then the #7 seed Netherlands Sharon Prins was sent packing 2-0 followed by Maria O'Brien (2-0) to earn the Japanese sensation a place in the final – wherein Mikuru-san polished off Lorraine Winstanley in the final (3-0) just like countryman Miki Sudo did 37 hot dogs to win the 2018 Nathan's Famous hot dog eating title.
In the final Suzuki averaged just over 90 while clicking 9 doubles from 14 attempts. She didn't lose a set the entire tournament. Her performance was so dominating that Winstanley would only have two attempts at a double. She hit both.
Suzuki loved the stage and TV and they loved her back. Much like a filly let loose in the field for the first time Suzuki's manner was as lighthearted and playful as her darts were unstoppable. The Sage of Sittingbourne, Dave Whitcombe, nailed it as he usually does. Well, I'm sorry but the women were great and have found a new star who took to Lakeside like a fish to water and won over everyone. A little miracle called Suzuki won the show. And it wasn't on 34th street either.
Mikuru-san to many was an unknown quantity, especially to the commentators. As anyone that watches machine darts knows, after a throw a player will often throw a phantom dart as the other player throws. When Mikuru did that we heard, "She's known for her phantom dart." 99% of machine players do that. The best "He said what?" was one instance as Mikuru-son readied for a double when we heard, "There's her trademark eye squint." Seriously?
That would be her Asian eyes, you dolt. Suzuki is the #8 ranked WDF player, #28 in DARTSLIVE and a pure delight.  Readers are encouraged to watch her final against Winstanley on YouTube.
The streel scene (thanks PDC!) has brought 21st century marketing and money to revolutionize the game. This includes the introduction of gaming with a high investment that provides the money for TV and players. The Premier League's a big hit throughout the world. This year, from February 7 in Newcastle until May 23 at London's O2, 10 men will battle for the £250,000 first place money. Along the way, there will be stops in Scotland, Ireland, Holland and Germany. This year's group is headed by Michael van Gerwen with Rob Cross, Peter Wright, Daryl Gurney, Michael Smith, Gary Anderson, Gerwyn Price, James Wade, Mensur Suljovic and Raymond van Barneveld filling out the field.
In America the Premier League has sprouted at least one Fantasy League. In Colorado it's the "Pick'em" contest. The rules? A point is given for the winner of a match, a point for correct score, a point for total T80s and 2 extra points for all winners. For more information and to sign up darters should c lick to: Sportinglife.com/darts.
There are remnants of the USA's Golden Days still hanging on. The ADO is like the forlorn lover pinning for the one, two or many that got away – remembering and trying to revisit their days of glory. One of the remnants from that era is the 41st Las Vegas Open this weekend – January 18-20 at the Tuscany Hotel and Casino. In addition to the $30,000 in prize money the tournament will serve as venue for the ADO Cricket and 501 National Championships. 84 men and 84 ladies have qualified to enter. Each entrant will pony up $150 per event or $300 for both. What a deal! Each championship will have a $4,000 prize fund with a portion of entry fees added. How much added? "No EYE DEAR."
The Las Vegas Open has come a long way in 41 years. One of the first Las Vegas Opens was held downtown at the Plaza Hotel with a stage final. The ODC, dressed in his stylist dinner, suit presided on stage. Them was the days.
This year, the event should deliver a little international flavor as the tournament has both WDF and BDO ranking points. If the tournament holds true to form there will be a sizeable contingent of foreign entries including those from Canada, Japan and California. With a significant presence from Japan it's 50-50 that the new BDO World Champion Mikuru Suzuki will make the trip. If she does show up it will be without walk-on music or a stage but with a skill level that will make her the 501 favorite straight away.
For those that have not already secured hotel reservations you're probably in a difficult situation. Sharing the weekend with the Las Vegas Open is all-time great boxing champion Manny Pacquiao making his first visit to the USA in 2 years. He fights Adrien Broner on Saturday night so rooms will be at a premium.
There is no doubt that England and women's darts has a new star as both have taken big time to a Japanese dish called "Miracle" Mikuru Suzuki.
Stay thirsty my friends.